India accident in Himachal Pradesh kills 10 people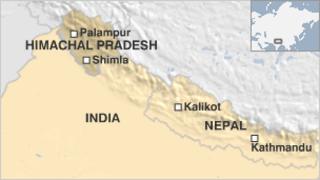 Ten people have been killed after the vehicle they were travelling in plunged off a road in the northern Indian state of Himachal Pradesh, police have said.
The vehicle, carrying labourers returning from a road construction site, fell into a gorge in Hamirpur district late on Tuesday.
Local villagers helped police to retrieve the bodies.
Road accidents are common in India, often due to poor driving or badly maintained roads and vehicles.
Police said the dead, of which seven were women, were migrant workers from Rajasthan state. Two other passengers were seriously injured.
Last month, 12 people were killed when an SUV carrying people returning from a cricket match fell into a gorge in Chamba district in the state.
India has the world's highest number of road deaths, with more than 110,000 people killed every year in accidents.