Bollywood cinema: 10 lesser-known facts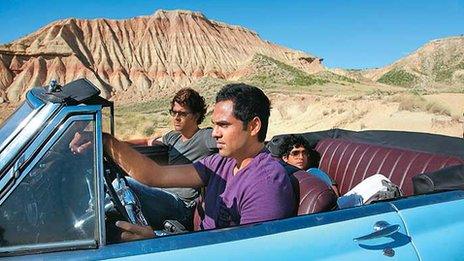 Bollywood turned 100 on Friday. Eminent economist and Bollywood fan Lord Meghnad Desai explores whether it has reflected the life and times of a changing India.
Indians like to be told stories, especially the stories they have heard before.
Narratives of epics, history, romance and family sagas crowd the Indian mind.
Folk theatre and itinerant singers have done this for ages. Indian cinema has done the same for a century.
Indian cinema is as old as cinema itself.
Six months after their Paris debut in 1895, the Lumiere brothers came to Bombay's (now Mumbai) Watson Hotel and displayed their new invention, and Indians took to cine photography like fish to water.
They began making single and two reel films immediately.
Condescension of the elite
The first feature film Raja Harishchandra (1913), based on a well known story from the epics, came after years of preparation.
Even so, Bollywood (which strictly refers to the Hindi film industry and not the many other language film industries) has never been given its due in India's cultural and intellectual life.
It suffers from much condescension of the elite who celebrate classical music, classical dance and theatre but look down upon Bollywood films as vulgar, common and highly unrealistic.
Cinema actually has been the most vibrant medium for telling India its own story, the story of its struggle for independence, its constant struggle to achieve national integration and to emerge as a global presence.
Cinema has also been a major export success and is one of the few of India's products which is a global brand across Asia and Africa and increasingly Europe and America.
Themes such as untouchability were tackled by Bombay Talkies's Achhut Kanya (1936) and yet again in 1959 by Bimal Roy in Sujata.
Widow remarriage was the theme of Ek Hi Rasta (1956) and dowry deaths in Dahej (1950).
These themes recur but in new forms as India changes. There are other political themes.
In 1943, the film Kismet became a huge hit and its most celebrated song was Door hato ai duniyawalon Hindustan hamara hai (Go away you people of the world, India is ours) at the height of the Quit India agitation against the British.
By 1949, newly independent India was just discovering itself and its diversity.
In the film Shabnam, there was the first multi-lingual film song with stanzas in Bengali, Marathi and Tamil, telling the audience that they were all part of India while poking gentle fun at the stereotypes it created.
V Shantaram, the prodigious filmmaker whose career lasted 65 years from 1921 to 1986, made Teen Batti Chaar Raste (1953) on the theme of the need to live together despite linguistic and cultural differences by relating a story of a family where the brides speak several languages.
Director Mohan Sehgal took up the same theme of antagonism between northern and southern Indians in his film New Delhi (1956) where a famous line has the Punjabi speaking hero say to his Tamil lover that his father believes that if he encounters a cobra and a madrasi - as all south Indians were called by the north Indians - on the way he will kill the madrasi first!
Yet the power of love conquers all, along with good music and entertaining dances.
The timid 1940s had tragic films with the hero and heroine thwarted in the path of love and dying singly or together while singing memorable songs.
By the mid-1950s Dilip Kumar, the quintessential tragic hero of the earlier days, was challenging the system in Naya Daur, as a horse carriage driver fighting a new bus service.
He wins the race against the bus and the woman he loves in happy ending.
This confident India is questioned by Guru Dutt's 1957 classic Pyaasa and Ramesh Saigal's 1958 Phir Subah Hogi which mocks Nehruvian India with its egalitarian pretensions and dismal outcomes.
By 1960, K Asif has his spectacular celebration of India in his historic epic Mughal-e-Azam on Akbar's reign while Raj Kapoor in his Jis Desh Me Ganga Behti Hai and Dilip Kumar in his Ganga Jamuna are exploring the theme of what makes a person a dacoit.
The multiple tensions in India all find their niches in Bollywood which never instructs but always entertains.
The portrayal of the British also undergoes a subtle change as India develops.
In Manoj Kumar's 1981 film Kranti, the British are blood thirsty tyrants much given to the whip and the manacle while patriotic Indians wage a war against them.
By 2001, Aamir Khan's Lagaan has the story of a village challenging the British to a cricket match in lieu of an unjust revenue demand and defeating them. Here is confident India rethinking its colonial past.
Globalisation and increasing cosmopolitanism raise anxiety about what it is to be an Indian, especially for a young woman.
So we have films like Hum Aapke Hain Koun (1994) where the traditional family wedding meets lovers' choice and concedes, while in Dilwale Dulhania Le Jayenge (1995) it is the expatriate Indians discovering their roots though growing up abroad.
By the time you come to Zindagi Na Milegi Dobara (2011) we have the old story of male bonding among three men which spans across Spain romancing senoritas. Yet the men are truly Indian.
India has the world's largest film industry.
It is part and parcel of India's story which it tells like no other medium and earns more than all the rest. Let us look forward to its second century.