India singing legend Shamshad Begum dies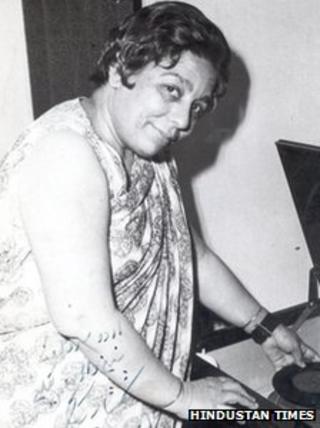 Indian singing legend Shamshad Begum has died in the western city of Mumbai, aged 94.
Begum had been in poor health in recent months and died at her residence late on Tuesday, family members told the Press Trust of India (PTI) news agency.
She was one of the earliest singers in Bollywood with a number of of hit songs.
Among her hits were Mere Piya Gaye Rangoon, Kabhi Aar Kabhi Paar and Kajra Mohabbat Wala.
Born in Punjab's Amritsar district, Shamshad Begum made her debut on a radio station in Lahore in December 1947.
Fans say she captivated the hearts of her listeners with the enchanting depth of her voice.
She was also one of the first so-called "playback singers" - whose voice was pre-recorded for use in films in which actresses would lip-sync to her songs.
The singer had lived with her daughter and son-in-law in Mumbai ever since her husband died in 1955.
"The funeral was a solemn affair with a few friends present," her daughter Usha Ratra told PTI.
Ms Ratra said her mother "kept herself away from the glamour of the industry despite being one of the top singers of her era as she did not like limelight".
"My mother used to say artistes never die. She wanted to be remembered for her songs."
Shamshad Begum was a versatile artist, singing in Hindi and the Bengali, Marathi, Gujarati, Tamil and Punjabi languages.
She sang for top composers of her time, including Ghulam Haider, Naushad and OP Nayyar.
According to accounts of her life, Shamshad Begum's singing ambitions met opposition from her family.
When she finally won a contract with a recording company, her father agreed to let her sing on the condition that she would record in a burka and not allow herself to be photographed.
Many of her fans only saw what she looked like in the 1970s, the Associated Press reports.