Two held over India Bangalore blast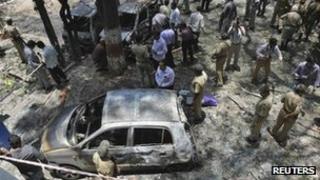 Police in India say they have arrested two people in connection with last week's explosion near the office of a political party in the southern Indian city of Bangalore.
The blast, near an office of the Hindu nationalist Bharatiya Janata Party (BJP), left 16 people injured.
The two men were detained in Chennai in neighbouring Tamil Nadu state.
In May key elections are to be held in the BJP-run Karnataka state, of which Bangalore is the capital.
The police did not say whether the men belonged to any group. No group has claimed responsibility for the attack.
A police official, who did not wish to be named, told the BBC that more arrests were likely.
The police say explosives were strapped to a motorcycle parked near the office.
Correspondents say Bangalore, home to hundreds of IT companies including multinationals like IBM, Hewlett Packard and Microsoft, is considered a soft target for terror attacks.
In July 2008, one woman was killed and several others injured when seven bombs hit crowded areas of the city, which is India's information technology hub.