India police arrest second man over Delhi girl rape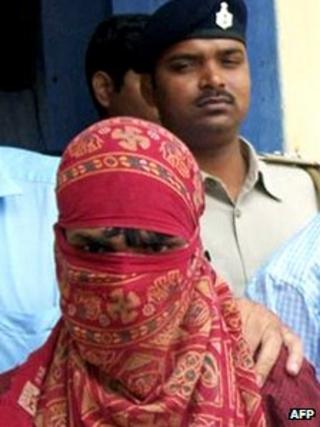 Police in India say they have arrested a second man in connection with the alleged kidnapping and rape of a five-year-old girl in Delhi last week.
The man was arrested in Bihar state early on Monday. A suspect was also held in Bihar over the weekend.
The condition of the girl is reported to have improved, as protests over the attack continue.
Prime Minister Manmohan Singh has called the assault an example of "depraved behaviour".
The little girl was abducted on 15 April and attacked in a locked room for more than 48 hours, police said. She was rescued by neighbours who heard her cries on 17 April.
On Saturday, police arrested the first suspect, who has been remanded in custody.
Another man allegedly present during the assault was subsequently arrested in Lakhisarai district in Bihar and was being brought to Delhi, police said.
'Responding well'
Doctors say the condition of the little girl, who is being treated at a hospital in the capital, improved over the weekend.
"We are trying to control the infection and she is responding well. It will take at least two weeks to discharge her," the chief of the All India Institute of Medical Sciences, DK Sharma, said in a statement.
Hundreds of people have protested against the assault outside the city police headquarters and the home of ruling Congress party chief Sonia Gandhi.
There have been allegations that police ignored complaints by the girl's parents when she went missing and offered them money in an attempt to dissuade them from registering a case.
Delhi police chief Neeraj Kumar said the allegations were being investigated and "exemplary punishment" would be taken against policemen found guilty.
"Is it humanly possible for the police to prevent a crime like this when a neighbour lures a girl into his room and commits a crime?" Mr Kumar asked reporters.
He said the majority of cases of rape in the capital were committed by "fathers, former husbands, father-in-laws, neighbours, friends, lovers, landlords, tenants, employers, tutors and doctors".
Prime Minister Singh said on Sunday that his country had "vast improvements" to make on women's safety and that it was everyone's responsibility to provide security to women.
"The gruesome assault on a little child a few days back reminds us of the need to work collectively to root out this sort of depravity from our society," he said.
The issue of sexual violence against women and girls in India has been under intense scrutiny since the gang rape and murder of a student on a Delhi bus in December led to widespread protests.
Six people were charged over the murder, which shocked the nation. Four are on trial in a specially-convened fast-track court and face the death penalty. A fifth suspect was found dead in prison.
The sixth suspect, a minor, is being tried in a juvenile court. All the accused have pleaded not guilty.
Last month India passed a new bill containing harsher punishments, including the death penalty, for rapists.