Investigators look for India Bangalore blast clues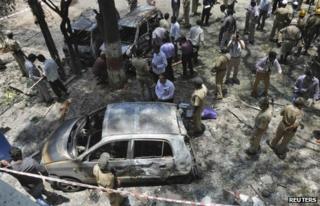 Federal investigators are looking for clues at the site of Wednesday's explosion near the office of a political party in the southern Indian city of Bangalore.
The blast, which took place near an office of the Hindu nationalist Bharatiya Janata Party (BJP), left 16 people injured.
The police suspect it originated in a motorcycle parked near the office.
The blast took place weeks ahead of key elections in Karnataka state.
The BJP runs the government of the state of Karnataka, of which Bangalore is the capital.
A team of federal investigators from National Investigation Agency (NIA) and National Security Guard have reached the blast site to look for forensic evidence.
Chief Minister Jagdish Shettar said the "terror angle" was being examined.
"We will not allow those involved in the blast to disrupt the elections in the state," he said.
No group has claimed responsibility for the attack.
Correspondents say Bangalore, home to hundreds of IT companies including multinationals like IBM, Hewlett Packard and Microsoft, is considered a soft target for terror attacks.
Bangalore police chief Raghavendra Auradkar told reporters on Wednesday that the explosion took place in a motorcycle parked at the site.
In July 2008, one woman was killed and several others injured when seven bombs hit crowded areas of the city, which is India's information technology hub.