India deploys drones to save rhinos in Assam state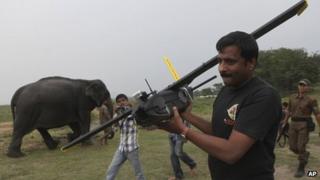 India has deployed aerial drones over Kaziranga National Park in Assam state in a bid to protect endangered one-horned rhinos from poachers.
Kaziranga chief NK Vasu said the maiden drone flight on Monday was a "milestone in wildlife protection".
The park is home to two-thirds of the world's one-horned rhino population and also has a large number of elephants, tigers and other wildlife.
In recent months, rhinos have been killed in large numbers by poachers.
Drones and other successful anti-poaching measures have also been used by the WWF in nearby Chitwan National Park in Nepal, where the hunting of one-horned rhinos has been drastically reduced.
Assam 'furore'
"The Unmanned Aerial Vehicle (UAV) was up in the sky for 15 minutes. It landed safely," Mr Vasu said. "We hope this technology will go a long way in effective surveillance of the park."
Assam Forest Minister Rockybul Hussain said this was the first time that drones had been used for wildlife protection anywhere in India.
"The UAVs will deter poachers who will now have to reckon with surveillance from air as well as on ground," Mr Hussain said.
The minister said it would now be possible to keep an eye on the remotest parts of the 480 sq km (185 sq miles) park.
The drones can fly a pre-programmed route at a maximum elevation of 200m (656ft) for up to 90 minutes, officials say.
They are light enough to be launched by hand and will be able to take images of the ground below with a still or video camera, they add.
Twenty-two one-horned rhinos were killed in Kaziranga by poachers last year.
In the first three years of this month, 16 rhinos have been killed, triggering a furore in Assam where the animal is seen as a symbol of regional pride and is also valued for drawing tourists to the state.
A rhino census in Kaziranga last month said that were about 2,300 of the animals in Kaziranga.
In September, the government ordered India's top federal investigation agency Central Bureau of Investigation to probe a series of attacks on rhinos by suspected poachers during last year's floods in the state.