India acid: Four sisters injured in Uttar Pradesh attack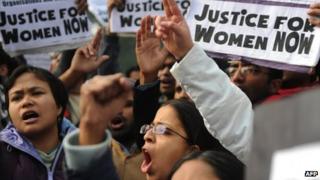 Police in the northern Indian state of Uttar Pradesh are investigating an attack on four sisters who suffered burns after acid was thrown at them.
The women, all teachers, were walking home from a school when they were attacked by two men on a motorbike.
One of the women was admitted to hospital with serious burns. The motive for the attack is unclear.
It came as President Pranab Mukherjee signed into law tough new legislation to counter violence against women.
The legislation contains harsher penalties for rapists, including the death penalty, and up to 10 years in jail for acid attacks. It follows the fatal gang rape of a student in Delhi in December which outraged India.
The acid attack on the sisters took place in the town of Kandhla in Shamli district in western Uttar Pradesh on Tuesday evening.
The most seriously injured of the four is receiving treatment in Delhi. Another was admitted to a local hospital. Two others received minor injuries.
Police have yet to make any arrests.
Acid attacks are a problem throughout South Asia, with cases also reported in Bangladesh, Pakistan and Afghanistan.
Campaigners say that women who reject lovers, husbands or employers are often targeted by men using easily available and cheap chemicals.
Activists have been calling for tighter restrictions on the sale of acids which are commonly used in attacks.