Is the return of marines an Indian diplomatic win?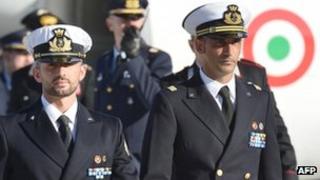 Italy's decision to send back to Delhi for trial two marines accused of murdering two Indian fishermen is being described by many in India as a triumph for its diplomacy.
Considering the knotty situation both the countries had got in over the issue - India's Supreme Court barring the Italian ambassador from leaving the country and insisting that he had effectively surrendered his diplomatic immunity with his affidavit promising the marines' return - Rome's decision certainly defuses an unsavoury diplomatic row.
Indian foreign minister spokesman Syed Akbaruddin tweeted that "intensive diplomatic contacts in the last 24 hours led to Italy informing that the marines will return as per time line set up Supreme Court." His Twitter timeline is now littered with congratulatory messages hailing the development as a "victory" for Indian diplomacy.
But some, like former top diplomat Kanwal Sibal, believe the decision to return the marines is actually a "sorry commentary on the ineptness of Italian diplomacy", rather than a big triumph for the Indians.
"The Italians didn't consider the matter seriously. They underestimated the Indian response. Once they saw that the script was not moving as they had anticipated they began to review the matter after treating the marines as heroes," he told me.
"The fact that they decide to send them back projects Italian diplomacy in poor light. It also indicates sharp divisions in the government. Many in the government must have disagreed with Rome's decision not to send back the marines, otherwise they would not have reversed the decision."
Indian diplomats believe Rome did not want to escalate the crisis further after what they describe as the Supreme Court's "bold but questionable decision" to restrain the Italian ambassador from leaving the country in what was described as a violation of the Vienna Convention.
There was also rising concern about the fallout of this crisis on considerable Italian interests - defence deals, for example - in India.
Italy believes they have come out of the crisis with a face saver - it has reportedly received assurances from India about the marines' treatment, their human rights, and the fact that they are not at risk of receiving the death penalty, which in any case seemed highly unlikely.
But, as Indian diplomats are saying, "the stakes had become too high for Italy and they buckled".