Ganesh Pyne, top Indian artist, dies from heart attack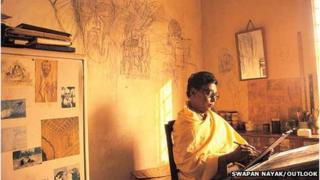 One of India's most famous artists, Ganesh Pyne, has died in a hospital in the eastern city of Calcutta aged 76 after suffering a heart attack.
Influenced by paintings of Rembrandt and Indian artist Abanindranath Tagore, Pyne was one of the founders of the prestigious Society of Contemporary Artists of Calcutta.
He was called the "painter of darkness" for his dark and brooding imagery.
His work remains highly prized and features in many important collections.
Pyne rarely painted with a bright background and used his favourite ochre and shares of black and blue colours to suggest dark events.
Art historians say death repeated itself in various forms and motifs in his work.
Pyne, who graduated from the Government College of Art and Craft in Calcutta, began his career drawing in watercolours before moving to the gouache and tempera form of painting.
A shy and reclusive man, Pyne in the early stages of his career painted sparsely and rarely held solo exhibitions.
But he went on to be one of the most influential artists of his generation and received a number of awards.
Pyne's work remains highly prized and features in many public and private collections.
Described as "an artist's artist" by the Indian media, Mr Pyne received several awards and accolades for his works.
Fellow painters were quick to pay tribute to his work.
Artist Samir Aich said that his death "was a great loss for the entire cultural fraternity" of India, while painter Jogen Choudhury said that he had left a huge void both at home and abroad.
Top film maker Rituparno Ghosh described him as a man "who created fairy tales out of colour and lines".