Steven Spielberg to produce 'Kashmir film'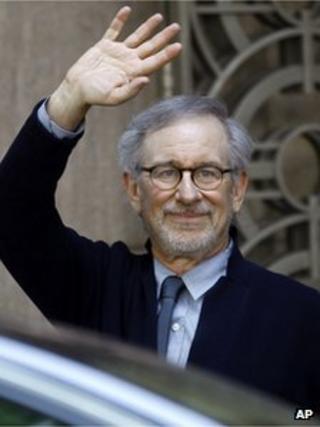 Oscar-winning director Steven Spielberg says he is planning to produce a film, a part of which will be set on the de facto border in the disputed region of Kashmir.
Spielberg said the script had been "finalised", but he was still to decide on the director and the cast.
In his 40-year career, Spielberg has been behind more than 50 films.
His most recent, Lincoln, received 12 nominations at this year's Oscars, winning two awards.
Spielberg, who is in India, told The Times of India newspaper that the film would be produced by his DreamWorks studio and the Mumbai-based Reliance Entertainment.
"We have finalised a script... Part of it will take place on the India-Pakistan border in Kashmir. But we're still trying to figure out the castings, locations and who's going to direct it," the 66-year-old director said.
Spielberg met Bollywood star Amitabh Bachchan and other Indian film personalities at a party hosted by businessman Anil Ambani on Monday night.
"A scintillating evening with Mr Steven Spielberg .. films relations scripts trends future .. and more!!" Bachchan tweeted after the meeting.
Spielberg recently announced that he would make a TV mini-series about the life of the French Emperor Napoleon.
The series will be based on a screenplay by Stanley Kubrick, which was scrapped by the late film maker in the 1970s.