India parliament uproar over rape and murder of sisters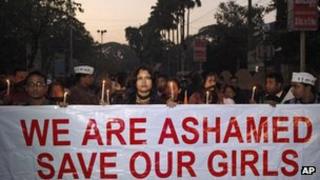 There has been an uproar in the Indian parliament over the investigation of the rape and murder of three sisters in Maharashtra state.
Home Minister Sushil Kumar Shinde expressed his shock at the incident.
Mr Shinde said one policeman has been suspended for not acting on the complaint about the missing girls in time.
The bodies of the girls, aged six to 11, were found on 16 February in their village well in Bhandara district.
The sisters went missing on 14 February from their school in Murwadi village 200km (124 miles) from Mumbai and their bodies found two days later. So far there have been no arrests and police have no motive for the crime.
Opposition MPs criticised the "slow progress" in the investigation into the incident.
Describing the incident as "despicable, ghastly and brutal", Mr Shinde told the parliament that an investigation by the Maharashtra police is underway to find those who had carried out the crime.
The incident happened barely two months after the brutal gang rape and murder of a student in Delhi that caused outrage across India.
Recently, India's president approved harsher punishment for rapists. The amended law raised the minimum punishment for anyone convicted of raping a minor to 20 years and allowed the death penalty in extreme cases.