'Sectarian militants killed' in Quetta raid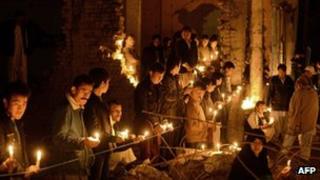 At least two suspected sectarian militants were killed and four arrested in an overnight raid in the Pakistani city of Quetta, officials say.
It follows a raid on Tuesday night which left four suspected militants dead. Seven others were arrested.
Officials say all those killed and detained belonged to the Sunni militant group Lashkar-e-Jhangvi.
Last Saturday a bomb planted by the group in Quetta killed almost 90 ethnic Hazara and injured 169 others.
The attacks sparked outrage form the Shia Muslim Hazara community who initially refused to bury their dead to protest at what they see as a lack of protection from local and national security forces in the face of repeated attacks.
The Balochistan home secretary says one of the seven men arrested on Tuesday night was among those who planned last week's attack.
Quetta is the capital of Balochistan province, which borders Iran and Afghanistan, and has been plagued by a separatist rebellion as well as sectarian violence.
Hundreds of Shia Hazaras in Quetta have been killed in attacks in recent years.