UK apology for India massacre?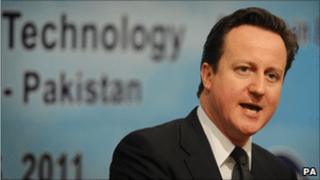 Should David Cameron apologise for Britain's colonial past in India, particularly the bloodiest moments like the Amritsar massacre?
His chief diplomat here was confronted with the issue after giving a speech in Delhi a couple of months ago, when an elderly man jailed by the British demanded to know when the UK was going to say sorry.
There's speculation that David Cameron is about to do so during his second trip to India as prime minister.
I was watching the UK High Commissioner's speech and Sir James Bevan's uncomfortable expression made clear that he had no prepared line on the question. He tried to dig himself himself out saying that as he had been born after independence he wasn't qualified to comment.
Some say a proper apology from Mr Cameron will help build the new "special relationship" with India he is seeking.
He has some way to go.
"Except for the kids going to England for education and support on the [UN] Security Council, it matters less and less", says one well-connected Indian investor who'll be in meetings with the Prime Minister.
The use of "England" is one indicator of the 'special relationship' Indians are more interested in.
On the eve of Mr Cameron's arrival, one of its leading papers had a three-page feature headlined 'United States of India' gushing about its obsession with all things American.
The former colonial power didn't even get credit for the language in this love affair, with the paper talking about the two countries being joined by "Americanese".
That India looks more towards the US now is hardly news. It has been for years, with students flocking to its universities and American brands making growing inroads here.
And while Indians are still drawn to British universities, the visa restrictions the prime minister now says won't be as tough for Indians as they sounded have dented that side of the UK's appeal too.
Trade has grown a few billion since his last visit in 2010, but it lags behind European competitors like Germany and even Belgium, with France catching up - and in position to leap ahead if it signs a deal to supply new jets to the Indian air force.
And while India has been busily buying up large chunks of British industry, its biggest trade partners are China and the US.
But UK companies still have plenty of "headroom for growth" in India, says Adrian Mutton who runs Sannam S4, which helps foreign companies get started in India.
So would an apology help?
Mr Cameron can certainly do better than Prince Philip, who made one of his trademark gaffes on a visit to Amritsar in 1997 by describing the death count as "vastly exaggerated".
Relatives of the estimated 1,000 Indians mown down by British bullets in 1919 are reportedly expecting an apology.
And "it would be welcomed across India", says former Indian foreign secretary Shyam Saran.
But any benefits may be short-lived. Author and former business chief Gurcharan Das says a British apology would be like "political gimmickry". It's simply not an issue for most Indians, with over half the population under 30.
"The minds of young Indians have been decolonised," says Das. "The new generation just wants to get on with it."
That's what the UK needs to do too, says the investor. It also needs to focus on what it can bring here.
"With the Japanese, you know they are about railways. With the French, it's nuclear power."
"We don't know what the Brits are here for," he says. "They are all over the place".