Kumbh Mela aerial photographer held
By Ram Dutt Tripathi
BBC Hindi, Allahabad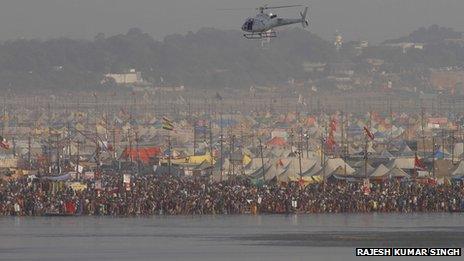 Police in the northern Indian city of Allahabad have detained a photographer from France for flying "dangerously low" in a helicopter over the Kumbh Mela festival.
The incident took place on the main day of bathing on Sunday when 30 million pilgrims took a dip at the confluence of the Ganges and Yamuna rivers.
Police said the photographer was being questioned and his papers checked.
The festival expects 100 million bathers in total across its 55 days.
Sunday was the most auspicious of six bathing days at the event, billed as the world's biggest human gathering.
Police said the private helicopter carrying the photographer was cleared to fly over Allahabad by federal aviation authorities.
But it had no permission to fly over Sangam - where the rivers meet - and take pictures.
Security helicopters have been flying high over the sprawling Kumbh Mela grounds in order to monitor crowds.
But the helicopter carrying the foreign photographer flew so low over the bathing area that police boats in the water began shaking due to the turbulence caused by the helicopter's rotors, Allahabad's most senior official Devesh Chaturvedi told the BBC.
"This caused anxiety and panic. Police had to send a message to the nearest air force station to call back the helicopter and ground it," he said.
The photographer was immediately detained and his camera confiscated, Mr Chaturvedi said.
The Kumbh Mela has its origins in Hindu mythology.
Many believe that when gods and demons fought over a pitcher of nectar, a few drops fell in the cities of Allahabad, Nasik, Ujjain and Haridwar - the four places where the Kumbh festival has been held for centuries.