China protests citizen's rape in India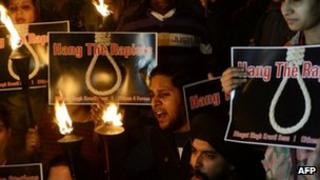 China has lodged a strong protest with the Indian authorities after a Chinese woman was raped in Delhi recently.
Beijing has also asked Delhi to protect "the security, legal rights and privacy of the victim" and punish the accused.
An Indian man has been arrested and remanded in custody, police say. The foreign ministry said "local officials are handling the issue".
There has been outrage in India after the fatal gang rape of a young woman on a Delhi bus in December.
The 23-year-old Chinese woman was raped on 30 January, but she did not file a police complaint until earlier this week, reports said.
She had met the accused at a party in the city not long ago, they said.
The Chinese embassy in Delhi has warned its citizens, especially women, to be alert at all times and avoid going out alone in Delhi, China's official news agency Xinhua reported.
There was widespread anger and condemnation in India after a 23-year-old physiotherapy student was gang raped and brutally assaulted by six men on a bus. She died of her injuries later.
For weeks, thousands of people held protests around the country demanding quicker trials and harsher punishments, including the death penalty, for rapists.
Five men are being tried in a fast-track court for the crime. A sixth suspect is a minor and will be tried in a separate juvenile court.