India rapist ordered to 'look after cows'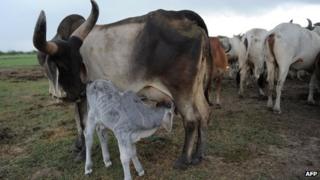 A juvenile court in the Indian state of Haryana has ordered a man convicted of rape and abduction to spend six months looking after cows at a local cowshed.
The man was 17 at the time of the crime in 2007 and was therefore tried in a juvenile court. He is now 23.
A senior police officer told the BBC that the convict started working at the cow shelter on Wednesday.
India has seen outrage over the recent fatal gang rape of a student. One of the alleged attackers is a minor.
Under Indian laws, if convicted, a minor can be placed in a reform facility for a maximum of three years.
But the brutality of the Delhi gang rape case has led many in India to call for harsher punishment for juvenile criminals.
A senior police officer in Rewari district, where the incident took place, told the BBC on Friday that the convict had been working at the cow shelter from 9am to 5pm every day.
"There are about 200 cattle in this community shelter for stray and abandoned cows. The convict feeds them, gives them water, takes care of them. He will do this every day for the next six months," Deputy Superintendent of Police Krishan Lal said.
Cows are considered sacred by Hindus in India and many even worship the animal.
Correspondents say the punishment has raised many questions about the seriousness of India's juvenile justice system.