India Chhattisgarh border sealed to find 'chilli powder hijackers'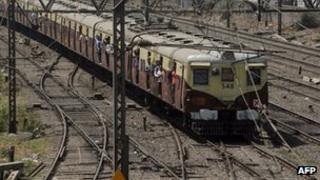 Police have sealed the borders of a district in India's Chhattisgarh state as they hunt for armed men who hijacked a train to set free an accomplice.
Police were escorting Upendra Singh, who is serving a life term, to jail after a court appearance on Wednesday.
About 10 men boarded the train, overpowered the driver and threw chilli powder in the policemen's eyes to incapacitate them, police say.
This is the second time Singh has escaped from custody.
The train driver's assistant and a policeman were injured during the hijacking late on Wednesday evening. Police say they have now sealed the borders of Raipur district.
According to the police, the men boarded the passenger train at Bhilai station.
Upendra Singh was on that train with three policemen who were escorting him back to Bilaspur Central jail. He is facing charges of kidnapping and robbery.
After overpowering the driver and his assistant, the armed men forced the train to stop where they had a van waiting for them.