Posco steel plant: India protests halt land acquisition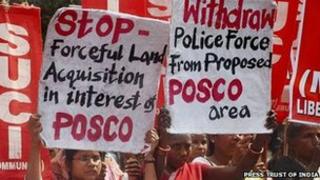 Protests by villagers in India's Orissa state have forced the authorities to temporarily abandon plans to acquire land for a proposed steel plant by South Korean steel firm Posco.
The land acquisition drive for the $12bn (£7.6bn) project resumed on Sunday after more than a year.
Hundreds of locals protested on Tuesday. Efforts to secure land for the plant are set to resume on Wednesday.
Conceived in 2005, the project would be India's biggest foreign investment.
According to an agreement signed between the Orissa government and Posco, the plant will produce 12 million tonnes of steel a year.
Based in the port city of Paradip, it is expected to create nearly 50,000 jobs.
But the plant has faced stiff opposition from local people campaigning to save farmland and woodland.
The state government says it is taking over land which has been willingly sold by local farmers.
Since Sunday there have been minor clashes between police and locals opposed to the plant.
Protesters, including about 100 school children, shouted slogans and blocked the road to Gobindpur village on Tuesday.
An official said there was tension for "a brief while", but things were brought under control.
Last March Posco's environmental licence for the plant was suspended. The results of a fresh review by the ministry of environment and forests are still awaited.