Protesters say new Indian rape law not strong enough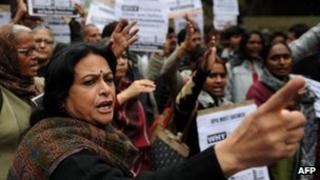 Women's groups in India have protested against a new law against rape passed by the government over the weekend.
The law raises the minimum punishment for anyone convicted of gang rape or raping a minor to 20 years and allows for the death penalty in extreme cases.
But protesters say the law does not go far enough.
The new legislation was approved in the wake of the fatal gang rape of a student in Delhi in December, which sparked national outrage.
Five men accused of the crime are on trial at a specially convened fast-track court in Delhi where they have pleaded not guilty to rape and murder charges.
If convicted, they could face the death penalty. A sixth suspect is to be tried by a juvenile court.
The first witness is due to take the stand on Tuesday.
'Consultations'
Scores of demonstrators took to the streets in Delhi on Monday to protest against the new law. It has already taken effect after being signed by the president late on Sunday.
New offences such as stalking, voyeurism and acid attacks are also covered by the new law
But protesters say it overlooks key recommendations of a government panel - the Justice Verma committee - to include marital rape and sexual assaults by members of the armed forces in its remit. Critics of the new law also say it should have been debated before being passed.
Finance Minister Palaniappan Chidambaram said a change in the law was clearly necessary, and promised even tougher measures against rapists.
He said the government had decided to bring in the new law through an ordinance, which allowed it to take effect immediately.
The ordinance was "a starting point and will be replaced by a law", Mr Chidambaram told reporters.
"The government wants to assure everyone that before it is tabled in parliament, we will hold wide consultations with all political parties before the bill is introduced."
The government-approved panel had called for faster trials and longer sentences for convicted rapists, but not the death penalty.
The new law, however, provides for the death penalty in cases of rape that leads to death or leaves the victim in a "persistent vegetative state".