Delhi rape case: Five accused plead not guilty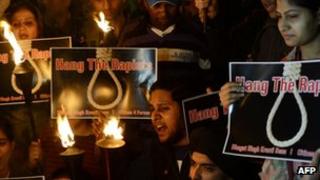 Five men have pleaded not guilty to the rape and murder of a female student in a Delhi bus in December, one of the men's lawyers has said.
The men signed statements to say they were innocent after being formally charged in a fast-track court.
The court will begin hearing evidence from witnesses on Tuesday.
The brutal gang-rape caused outrage across the country, sparking nationwide protests and calls for the death penalty for rapists.
A sixth suspect is to be tried in a juvenile court.
Prosecutors are expected to call three witnesses at the start of the trial.
They say they have strong evidence against the five, including DNA and phone records.
On Friday, India's cabinet approved most of the recommendations of a commission set up to review sex crime laws after the case came to light.
Widespread anger
The 23-year-old woman, who cannot be named in India for legal reasons, was attacked after boarding a bus in south Delhi with a male friend.
Police said the assailants beat both of them, and then raped the woman. She suffered massive internal injuries and died nearly two weeks later.
The deadly attack triggered widespread anger about the treatment of women in India.
A commission under ex-chief justice JS Verma was appointed to examine the country's laws on sex crimes, issuing its report on 23 January.
Ministers approved many of the recommendations on Friday, paving the way for raising the penalty for gang rape to life.
But they went beyond the panel's recommendations and suggested the death sentence in rape cases where the victim dies or slips into a coma.