Is Delhi gang rape India's 'Rosa Parks moment'?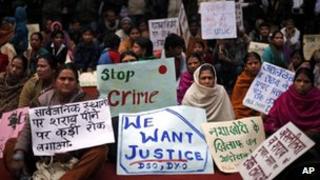 Rosa Parks had a choice about making her sit-down protest on an American bus in 1955.
So when a well-known Indian entrepreneur said last month's gang-rape on a Delhi bus was India's "Rosa Parks moment" he took some flak.
And many others simply scoffed at his idea that the outcry over the crime has reached the level of a new civil rights struggle.
Remember the protests over the Mathura rape case, the sceptics say, or the huge crowds for the anti-corruption protests in 2011: What did they achieve?
More of that later. But six weeks on, the brutal assault has at the very least changed the conversation and how India sees itself.
'Minds in turmoil'
And even if their instinct is to ride things out, politicians are having to listen.
It's hard to think of another situation in which a head of state anywhere would use a national day address to mark the death of one 23-year-old woman.
This weekend, India's President Pranab Mukherjee, was doing just that in his speech to mark Republic day.
He called the anonymous rape victim a "symbol of all that new India strives to be".
The student's death, he said, "has left our hearts empty and our minds in turmoil".
Her shadow was also hanging over India's biggest literature festival, that's been taking place in the city of Jaipur - but with participants trying much harder than politicians to respond to this turmoil.
Last year, the five-day jamboree of writers and thinkers was dominated by the exclusion of one man, Salman Rushdie.
This year, the unofficial theme was, the exclusion of half of India's population from playing its full role in the country.
And you could hear conventional wisdoms crumbling as restrictions on women came under scrutiny.
It was men not God who bar women from mosques, said Muslim academic Ashgar Ali Engineer, deriding the idea that such bans are to protect them from harassment.
"There's something wrong with men, if even in the presence of God they cannot control their desires," he said.
He got cheering applause, as much for the novelty of hearing a man attacking male rather than female behaviour.
American philosopher Michael Sandel sparked more soul-searching by asking his mainly Indian audience to debate attitudes towards rape and moral parallels between the sexual and the communal violence India has seen so much of.
It's not a discussion any Indian politician would go near yet.
But the responses were illuminating, with some arguing sexism is so embedded that like untouchable castes, women need special legal protection to "level the playing field".
'Mother-goddess'
Yet, many other women complained such thinking was demeaning and kept them on a "mother-goddess" pedestal, with their virginity as the touchstone of family honour.
"My identity is more than my virginity," said one.
It was at the Jaipur festival that Nandan Nilekani, the founder of Infosys, made his "Rosa Parks" remark, in a discussion on why India has fallen so far behind China.
His fellow panellist Gurcharan Das echoed his thoughts, praising the youth-led protests over the Delhi gang-rape for opening up a new "dynamic for reform".
Like many, he sees a continuum from the anti-corruption movement.
Far from fading away, he believes it provided a base for a wider campaign for India to run itself better.
And he predicts more "eruptions" until the political class responds.
Of course, a literature festival hardly represents a national mood.
But former chief justice Jagdish Verma was sounding the same note when he released his review of India's rape laws, saying "a failure of governance" was at the root of the country's troubles.
It was also time, he said, to review the immunity of Indian forces from prosecution, for widespread allegations of using sexual violence against women in Kashmir.
Just a week earlier, India's ruling Congress Party was in Jaipur too, for its annual brainstorming session.
With a general election just a year away, this was an especially important meeting and how the grand old party of Indian politics should respond to the new voices emerging from the rape protests, dominated their discussions.
Congress Party leader Sonia Gandhi promised the woman's death would not be "in vain".
So far though, all they seem to have come up with are plans for more training in social media and anointing her son Rahul as her successor - who managed to sit out the rape protests without saying a thing.
But six weeks after Rosa Parks refused to give up her seat, she could never have guessed how big was the wave she had begun.
And the ripples from the Delhi gang-rape case haven't petered out yet.