Delhi rape: Court rules suspect to be tried as juvenile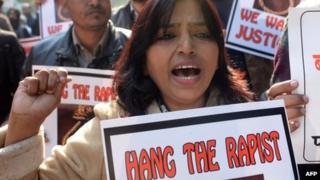 A court in India has ruled that one of the six people accused of the gang rape and murder of a 23-year-old woman in Delhi last month is a minor.
The Juvenile Justice Board said it accepted the accused's date of birth as 4 June 1995, making him 17 years old. He will be tried in a juvenile court.
If convicted, he faces a maximum of three years in a reform facility.
Five other suspects have gone on trial at a specially convened fast-track court and face the death penalty.
The case has shocked India and sparked a debate about its treatment of women.
The victim, a physiotherapy student who cannot be named in India for legal reasons, and a male friend were attacked on a bus on 16 December.
Police said the assailants beat both of them, and then raped the woman. She suffered massive internal injuries and died nearly two weeks later.
'Disbelief'
On Monday, the Juvenile Justice Board accepted the elementary school records of the suspect as proof of his age, the AFP news agency quoted a lawyer who was present in the court as saying.
The Delhi police, who had demanded a bone ossification test as confirmation, said they would challenge the verdict in the High Court.
Experts say the teenager, who cannot be named for legal reasons, may be released within six months if he is convicted, because adults cannot be detained at juvenile reform facilities.
The ruling shocked the victim's father.
"A sudden current ran through my body in disbelief. I can't believe this," the Reuters news agency quoted him as saying.
"How can they declare him a minor? Do they not see what they did?"
'Not sure'
Although the court based its ruling on the suspect's school records, its headmaster told BBC Hindi that he could not really be sure of his age.
"There is no concept of producing birth certificates in village schools at the time of admission. People just bring their children and tell us their approximate age.
"We admit a child based on what the parents tell us. We can't really be sure of his age, but as per the school admission records, he is 17 years and six months old. He could be older than this, but I'm sure he is not younger," he said.
Meanwhile, the trial of the other five suspects continued on Monday in a closed courtroom at the Saket court complex in Delhi.
Lawyers for two of the accused have said they will plead not guilty. It is not yet clear how the others will plead.
Prosecutors say they have extensive forensic evidence linking all six suspects to the crime. It is supported by the suspects' mobile-phone records and the testimony of the dying woman and her friend, they add.
However, defence lawyers say the forensic evidence is fabricated.
The brutal assault of the student has led to nationwide protests and campaigners have called for tougher rape laws and reforms to the police who have been accused of too often failing to file charges against attackers.
The government has promised to fast-track future rape cases. Legal proceedings in India sometimes involve years of delays.