India street vendors fight for their rights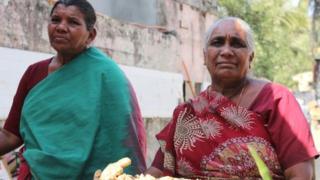 Street vendors across India have been protesting against the death of a fruit seller, who they claim died after a police raid on his stall. There are an estimated 10 million street vendors in India, but recently police in Mumbai have been clearing them from the streets.
"Without him our household will not go on, he was the only one who was earning," says Ram Jaiswal as he sits consoling his grieving mother in their cramped two-room slum dwelling.
At just 16, he has become the head of the household, forced to support his mother and younger brother after the death of his father.
Hanging on a bright pink wall is a picture of his father, Madan Jaiswal, who died in early January.
Mr Jaiswal had sold fruit on the same stretch of pavement in Mumbai for more than 20 years, earning less than $50 (about £30) a week.
Ram Jaiswal says one day the police were rounding up sellers and telling them to move from the pavement. "Everyone ran, but my father didn't see the police vehicle coming and he was guarding his fruit when the officer hit him. He fell to the ground."
Madan Jaiswal later died - his family say he had no prior health problems and that it was the shock of the attack that killed him.
There is no proof of any direct link between the death and the police raids and Mumbai's Deputy Commissioner of police, Ambadas Pote, told the BBC he did not believe the allegations were true, but he was unable to comment directly on the case.
Symbolic death
An investigation into what happened is currently under way, but Madan Jaiswal's death has come to symbolise something much bigger among street traders, also known as "hawkers" in India.
Thousands have taken to the streets, not just in Mumbai but in Delhi and other cities, to protest against the police action, calling for the raids to stop and for better treatment of street vendors.
Many are migrants who have moved from villages to the cities, arriving with little education or skills and selling is the only way for them to survive.
Fruit and vegetable sellers make up the lion's share of the vendors, but an eclectic mix of items can be bought on the roadsides - from clothes, combs and chairs, to suitcases, snacks and shoes.
"Street vendors serve the economy in many ways," says Professor Sharit Bhowmick of the Tata Institute of Social Sciences in Mumbai.
"They supply cheap goods to the urban population, which helps both the urban poor and the lower middle class," he says.
Professor Bhowmick, who has conducted extensive research on the practices of street selling across India, says vendors also play a wider role of propping up wholesale markets in India.
Illegal trading
It is illegal to trade on the footpaths without a licence. But the National Association of Street Vendors in India says very few licences are ever issued.
In Mumbai alone, it is estimated there are 250,000 street vendors with only around 17,000 of them holding licences.
In fact, according to Professor Bhowmick, the city has not issued a new licence since 1970.
Many of the traders say the only way for them to operate is by paying bribes to police officers who then turn a blind eye to their presence.
"There are too many hawkers in Mumbai, and not enough space. The roads and footpaths are for people to use, and that's why the police has taken action, to prevent accidents," Deputy Commissioner Pote says.
Mr Pote says there should be areas where street vendors can sell their wares legally, but shoppers should not rely on them totally.
Crackdowns on vendors happen regularly in India, but this current spate has "surpassed all and taken many of them off the city's streets", says Prof Bhowmick.
Nilesh Gupta has been selling fruit for more than 20 years in a suburb of Mumbai. But today his boxes of fresh fruit lie in the sun, rotting in the intense heat.
The footpath he once relied on for his daily trade is currently empty.
After days of police raids, and fines, Mr Gupta says he has been forced out of business. "I can't do anything else now because I'm 36 years old and I can't get a job that would pay for all my bills.
"I have to support my entire extended family," he says as his voice trails off.
Following in the footsteps of his father, who also sold fruit, was Mr Gupta's only option. "That's the problem here in India, our parents aren't educated and that's why we opt for these odd jobs. I'm hoping I can afford to give my children a good education," he says.
Better regulation
This is a profession which has many women working in it too.
"No-one is offering us a solution or alternative space," says Bernadette, a vegetable seller. "My business is completely finished."
They want better regulation, not only so they can trade but also so they can be part of the formal economy. "We would rather pay taxes than fines," says another woman seller named, Pushpa.
A bill which promises to overhaul the present licence system of street vendors is currently sitting in parliament.
It would allow any vendor to apply for a licence and if a decision is not taken within three months the person would automatically be allowed to trade.
It also proposes to create special vending zones, but finding space in crowded cities such as Mumbai remains an issue.
"My dad enjoyed his job and used to say, 'this is my life, I want to spend my life selling fruits'," says Ram Jaiswal, of his father's occupation.
The very fact that his father died doing what he loved, provides some comfort to the family during their time of grief.