Fire in Mumbai's Nayanagar slum kills six people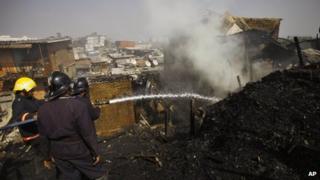 Six people have been killed and seven others injured in a fire that swept through a slum in India's financial capital, Mumbai.
Most of the victims were asleep in their homes when the fire broke out just before dawn on Friday.
A dozen fire engines and several water tankers fought the blaze in Nayanagar slum in the Mahim area of the city.
Several homes were gutted in the fire. Fire department officials said the cause of the blaze was not yet known.
Reports said residents were seen searching through the rubble for their belongings.
The fire also destroyed several vehicles.