India Kumbh Mela dip 'raised Ganges river pollution'
By Ram Dutt Tripathi
BBC Hindi, Lucknow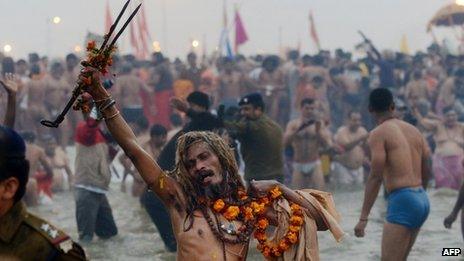 Pollution levels rose alarmingly in the river Ganges in Allahabad on the first day of the Kumbh Mela festival, according to a study by the state pollution control board.
Hindus believe a festival dip at Sangam - where the rivers meet - will cleanse sins and help bring salvation.
About 100 million devotees are expected to bathe during the 55-day festival.
On 10 February, considered the most auspicious bathing day during the festival, nearly 30 million devotees are expected to take a holy dip in the river.
The event, every 12 years, is billed as the biggest gathering on Earth.
The Kumbh Mela has its origins in Hindu mythology - many believe that when gods and demons fought over a pitcher of nectar, a few drops fell in the cities of Allahabad, Nasik, Ujjain and Haridwar - the four places where the Kumbh festival has been held for centuries.
Millions of people have been arriving in Allahabad for the past fortnight to take part in the Kumbh Mela festival.
The pilgrims, who come from all over India, bathe in the river, most drink a few drops of the Ganges water and many fill bottles to take home with them.
But the latest study by the Uttar Pradesh state Pollution Control Board has confirmed the worst fears of campaigners who have long raised questions about pollutants in the Ganges and Yamuna rivers.
The study found that the Biochemical Oxygen Demand (BOD) levels - which are used as a measure of the level of organic pollution in the water - had increased to 7.4mg per litre at the main bathing place, known as Sangam, on 14 January 2013.
The BOD level at Sangam a day before was 4.4mg per litre. After 14 January, the BOD levels gradually decreased to 4.8mg per litre on 18 January.
Experts say that BOD should not exceed 2mg per litre,
"Such high level of BOD in the water shows that organic pollution has increased in the river due to mass bathing," Pollution Control Board officer Mohd Sikandar said.
Authorities have released large quantities of water from further upstream to dilute the impact of the pollution.
But experts say the Ganges water in Allahabad is still not fit for drinking and bathing.
Many Hindus believe that water from the Ganges has the ability to clean and purify itself.
But campaigners say the river is affected by long term industrial and urban pollution from the cities and towns located on its banks.
They say this may be the reason that even a normal day of ritual bathing can increase the water's BOD level.