India Shiv Sena party gives knives to women for protection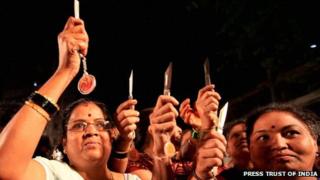 The regional Shiv Sena party in India's Maharashtra state has distributed knives to women supporters to help them protect themselves after the brutal gang rape of a student in a Delhi bus.
The knives were given away at an event held in Mumbai on the birthday of Bal Thackeray, Shiv Sena's late leader.
A party official said as the government had "failed to provide security" to women, they had to defend themselves.
The Shiv Sena said they would give away thousands more small knives to women.
The rape of the 23-year-old physiotherapy student in December sparked widespread protests in India and led to demands for more security for women.
"The way you cut vegetables, cut the hand of the person who touches you the same way," news agency AFP quoted a Shiv Sena party official Ajay Chaudhury as saying.
He told his supporters that women should keep the 3in (7cm) blade in their purses.
Mr Chaudhury said the party leader Bal Thackeray had said that women should carry a "Rampuri (small Indian knife) in their purse rather than a lipstick".
"So we are handing out these knives to help them defend themselves," he added.
Police say they have examined the knives and found them to be "not dangerous".