India first women's court opens in West Bengal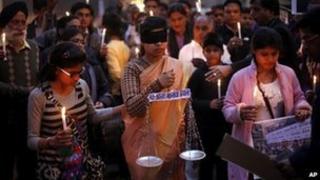 India's first special court to deal with crimes against women has opened in West Bengal state.
This is the first in a series of such courts, which will be headed by two women judges. All the staff and government lawyers will also be women.
The courts will ensure the "speedy disposal of cases" involving women, a senior judge said.
There have been calls for faster trials in India after the recent gang rape and death of a young woman on a Delhi bus.
The judges for the court in Malda town in the north of the state have already been appointed and "secrecy during the trials" will be a priority, Justice Arun Mishra of the Calcutta High Court told the BBC.
Justice Mishra had issued an order to launch such courts in Bengal.
The legal fraternity in the state capital Calcutta think appointing female judges and staff will help women who have been raped or molested to come forward.
"When there are men around, the female victim can't speak up and give details of the atrocity committed against her. They feel shy. In these courts the victim will get a women-friendly atmosphere," general secretary of All India Legal Aid Forum Joydeep Mukherjee said.
Male judges are often not "sensitive towards crimes against women and are biased towards the male gender when hearing a woman's plea", said senior advocate Bharati Mutsuddi.
On Wednesday a panel reviewing India's laws on sex crimes after the fatal gang rape of a student called for faster trials and urged longer sentences for those convicted.