Rajnath Singh takes over India's BJP leadership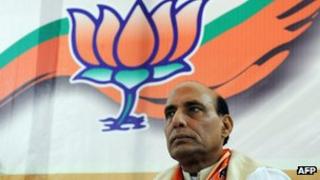 India's main opposition Bharatiya Janata Party (BJP) has elected veteran politician Rajnath Singh as the new party president.
Mr Singh, 62, has served as party chief in the past too. He was elected unopposed.
On Tuesday night, the incumbent party president Nitin Gadkari said he had decided not to seek a second term.
Mr Gadkari, who is facing corruption charges, said he did not want the allegations to affect the party.
He denies the allegations and says he is ready to face an investigation.
Mr Gadkari was appointed to a three-year term as BJP leader in December 2009. The BJP announced last year that he would be given a second term.
The leader of the main opposition Hindu nationalist BJP plays an important role in party affairs, though he or she is not necessarily the prime ministerial candidate.
Mr Singh took over as BJP president at a function at the party headquarters in Delhi on Wednesday morning.
He had preceded Mr Gadkari as BJP president till 2009 and emerged as the new choice at a hurriedly-called meeting of top leaders on Tuesday night.
In a statement issued late on Tuesday, Mr Gadkari said he had decided not to seek a second term in the interests of his party.
Anti-corruption campaigners have accused Mr Gadkari of involvement in an irrigation scam and land-grabbing.
Correspondents say many within the BJP felt that the allegations against Mr Gadkari had blunted their criticism of the governing Congress party, which has been hit by several corruption scandals recently, at a time when the party is preparing for next year's general elections.