Will Rahul Gandhi walk the talk?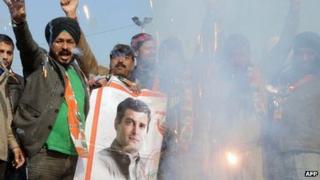 The promotion of Rahul Gandhi and his speech at a conclave of the Congress party at the weekend has surely boosted the party's flagging morale.
For a shy and reticent politician who's rarely heard in the parliament and has never given a proper media interview, Mr Gandhi delivered an unusually candid and heartfelt speech to mark his anointment as the number two in the party.
The promotion and the much-talked-about speech came at a difficult time for the Congress party.
It continues to fare indifferently in important state elections and the government has been beset by charges of corruption and inaction. In Gujarat, the emergence of BJP leader Narendra Modi - who recently won a fourth successive term as chief minister of the state - as a potential prime ministerial candidate appears imminent.
However, Mr Gandhi seems to have gamely picked up the gauntlet at last, and "must be complimented", as The Hindu newspaper remarked, "on choosing to walk the difficult path at a difficult time". He also made the right noises.
'Tragedy of India'
Mr Gandhi railed against the "gross" centralisation of political power by the elites, and the lack of meritocracy in politics and public systems. "It doesn't matter how much wisdom you have. If you don't have position, you have nothing. That's the tragedy of India," he said.
Few will disagree: elitism, nepotism and deeply entrenched hierarchies bedevil India's progress, and politics is no exception.
Mr Gandhi, who at 42 is youthful by India's geriatric political standards, also spoke about the growing disconnect between India's youth and the political class. He talked about their abhorrence for an increasingly arrogant political class. Exclusion, he said rightly, is at the root of most of India's problems.
Analysts say Mr Gandhi's elevation and the speech will energise party workers ahead of more state elections this year and the general election in 2014, in which his party, seeking a third term in a row, will be facing tough odds.
Whether he will be able to change a party which many say cannot think of life without a dynastic leadership and where sycophancy is deeply ingrained is not clear. After all, Mr Gandhi's father, Rajiv, had promised to change the party and its ethos in a similarly stirring speech in 1985, before he went on to be prime minister and was later assassinated. He had spoken out against power brokers and feudal oligarchies subverting his party. Nothing much changed.
Also, as many analysts have pointed out, people are still waiting for Mr Gandhi's thoughts on how to tackle corruption, fix the economy, cope with newer challenges to federalism, determine India's role in the world and deal with the looming threat from Maoism. They would also want to know his views on forging alliances with powerful regional parties in what is an increasingly multi-party democracy where coalition governments have become the order of the day.
Mr Gandhi said he wanted to democratise the party and empower people. Many believe he has to begin with the youth wing of his own party, which is stacked with privileged, young dynasts. Will he walk the talk or will, as one analyst fears, "the system devour him"? Time will tell.