Rahul Gandhi: India needs to decentralise power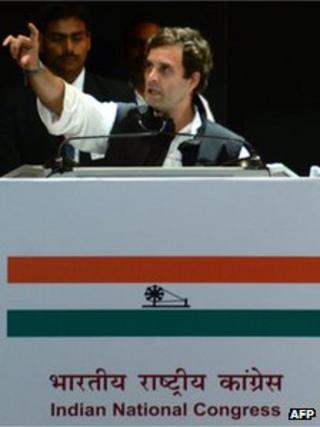 India's ruling Congress party leader Rahul Gandhi, who has been promoted to the party's number two position, has said he would work to transform the country by "decentralising" power.
Mr Gandhi was appointed as the party's vice-president at the weekend. His mother, Sonia Gandhi, is the president.
Party leaders have been demanding a larger role for Mr Gandhi.
Support for Congress in its second term has been hit by economic concerns and corruption cases.
Mr Gandhi told a party conclave in the city of Jaipur on Sunday that India's governmental system was struck in the past and needed transformation.
"A handful of people control the entire political space. We don't respect knowledge, we respect position," he said
"It doesn't matter how much wisdom you have. If you don't have position, you have nothing. That's the tragedy of India," he said.
Mr Gandhi said young people were angry because they had been excluded from the political class.
"We only empower people at the top of the system. We don't believe in empowering all the way to the bottom," he said.
Mr Gandhi said change could be possible only if those in power started empowering people for their knowledge and skills.
"All the public systems - administration, justice, education and political - are designed to keep people with knowledge out," he said.
The 42-year-old leader is widely expected to be the party's candidate for prime minister in next year's general elections.
In November, Mr Gandhi was appointed the head of a committee which will look after party activities relating to the 2014 elections.
The two-term Congress government - which has been hit by corruption allegations and claims of inaction - is expected to face a tough general election, correspondents say.