India court convicts politician OP Chautala over corruption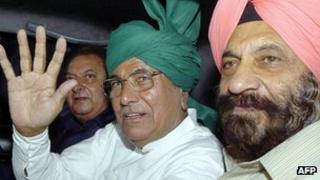 A court in India has convicted a senior politician for involvement in a case of corruption.
Former chief minister of Haryana state Om Prakash Chautala, 78, his politician son Ajay and 53 others have been found guilty of illegally recruiting more than 3,000 primary school teachers.
Those convicted will be sentenced at a later date.
Chautala is the leader of the Indian National Lok Dal party and the son of former deputy prime minister Devi Lal.
The scandal came to light in 2008 when the federal Central Bureau of Investigation (CBI) filed charges against Chautala and the others.
The CBI said father and son had forged documents to appoint 3,206 teachers between 1999 and 2000.
Chautala and his son Ajay have been taken into custody until sentencing on 22 January.