India protests in Goa after rape of schoolgirl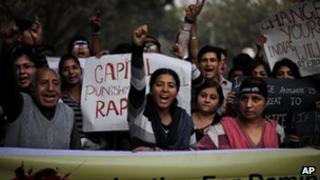 Hundreds of people have protested in the Indian state of Goa after a seven-year-old girl was raped in a school toilet on Monday.
Goa police chief Kishan Kumar told the BBC that an investigation into the incident was under way.
The headmistress has been detained on charges of negligence in Vasco town.
There has been growing outrage over the treatment of women in India and calls for tougher laws after the gang-rape and torture of a woman in December.
The rape in Goa was discovered after the victim complained of pain and was medically examined, reports the Press Trust of India news agency.
The police are now looking for the suspect after making a sketch from a description given by the victim.
Parents and local residents held a protest outside the school late on Monday when news of the rape came out.
"We will not spare the accused and anyone involved in this crime," Goa Chief Minister Manohar Parrikar said.
There were nationwide protests in India after a 23-year-old physiotherapy student was gang-raped and brutally tortured in a bus in Delhi last December.
The student died two weeks later from her injuries and campaigners have called for tougher rape laws and reforms to the police, who critics say often fail to file charges against accused attackers.