India judge convicts and sentences rapist in one week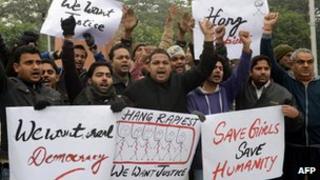 An Indian judge on Thursday sentenced a rapist to 10 years in prison, just eight days after receiving the case.
Judge JS Bhinder in Punjab state imprisoned Pawan Dubey for kidnapping and raping a 17-year-old co-worker.
The judge said courts should be "more responsible and sensitive" in cases of sexual assault against women.
The speedy conviction follows the gang-rape of a 23-year-old student in Delhi that shocked India and raised debate about the treatment of women.
Some rape cases in India can take up to 10 years in the courts.
'Death sentences for rapists'
The victim in Thursday's non-jury trial was from Hoshiarpur district.
She worked in a factory in Ludhiana where Pawan Dubey also worked and harassed her, the prosecution said.
She left the job but Dubey continued to pursue her and in May last year - along with several other men - he kidnapped and took her to Delhi.
She was held and raped for about 15 days before being abandoned.
According to the court order, Dubey asked for leniency saying that he is a "poor person, unmarried and the sole bread winner of his family".
But rejecting this plea, the judge said that the number of acquittals in such cases have "given rise to the demand for death sentences for rapists".
''The courts have to display a greater sense of responsibility and be more sensitive while dealing with charges of sexual assault on women," he said.
Thousands of people protested across the country to demand tougher rape laws and faster judgements in sexual abuse and rape cases after the abduction and gang-rape of the student in Delhi in December.