India truck accident 'kills 25' in Bihar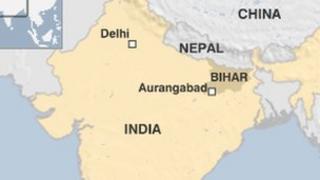 At least 25 people, including 11 children, have been killed when the truck they were travelling in overturned in the eastern Indian state of Bihar, the police said.
The driver and his assistant have fled the scene, police officer Praveen Kumar Parai told the Press Trust of India.
The injured passengers have been taken to a hospital in Aurangabad district.
Road accidents kill hundreds of Indians every year. Most are blamed on reckless driving, old vehicles and bad roads.
The truck was carrying 35 labourers who were returning home after harvesting crops, when the speeding vehicle overturned.
A state government minister, Ramadhar Singh, has announced a compensation of 50,000 rupees ($914; £570) for the families of the victims.