Politician Akbaruddin Owaisi held over 'hate speeches'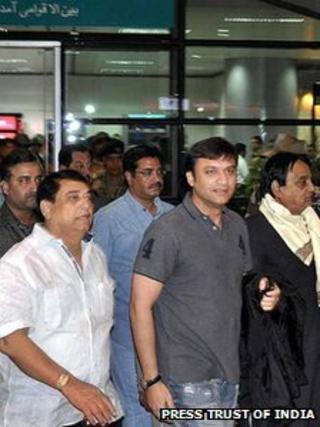 A prominent Muslim legislator in India's Andhra Pradesh state has been arrested for alleged hate speeches.
Several cases have been filed against Akbaruddin Owaisi of the Majlis-e-Ittehadul party for anti-Hindu comments he allegedly made in the speeches.
Some of the comments were recorded in December and were posted online.
Police have charged him with threatening the security of India and with promoting hostilities between Hindus and Muslims.
Mr Owaisi went to London after making the speeches to receive medical treatment for "internal pains" and returned to India on 7 January.
He was arrested on Tuesday after doctors said that hospital tests proved that there were no medical grounds to prevent police from holding him.
Correspondents say that the authorities in Andhra Pradesh have been criticised for not taking action against Mr Owaisi earlier.
In his speeches, Mr Owaisi reportedly accused police of bias against Muslims, in addition to denigrating Hindu gods. He said that Muslims could "teach the rest of the country a lesson".
Muslims comprise about 14% of India's more than 1 billion people.