North India cold snap toll rises to 170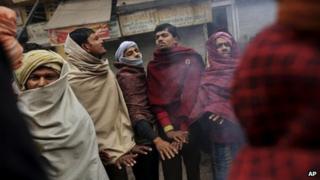 More than 170 people have died in a cold snap sweeping across northern India, reports say.
The majority of deaths were in Uttar Pradesh state. Punjab and Haryana are among the other northern states badly hit by the cold weather.
Most of the deaths have been among the homeless and the elderly.
Last week the Indian capital, Delhi, experienced its coldest day for 44 years. Dense fog caused travel chaos with trains and planes delayed.
Reports say more people have lost their lives in the bitter cold in Uttar Pradesh and Uttarakhand states.
The Press Trust of India news agency reported that 175 people had died in Uttar Pradesh, India's most populous state, where temperatures have dipped to below zero.
The cold snap has also been sweeping through many parts of the northern states of Uttar Pradesh, Rajasthan, Punjab, Haryana, Himachal Pradesh and Jammu and Kashmir.
Forecasters say the unusual conditions will continue for the next few days. Temperatures in Delhi, however, rose to 2.4C, up from 1.9C on Monday.