India gang rape: Delhi to appoint more policewomen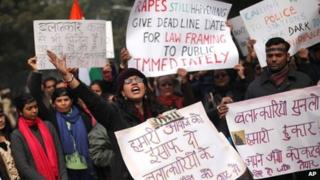 Women will be recruited for every police station in Delhi, Indian officials say, after an outcry over the December rape and murder of a student.
Home Minister Sushil Kumar Shinde said India had to crack down on crimes against women with an "iron hand".
The 23-year-old woman was attacked on a bus while making her way home.
Five men have been charged and could be handed the death penalty if found guilty. A sixth suspect is likely to be tried in a juvenile court.
Mr Shinde called a meeting of law enforcement officials from around India to consider how to improve protection for women.
He told delegates that the entire system needed to be reappraised.
"These kinds of incidents, and rage against women and weaker sections of our society, are unacceptable to our democracy. These need to be curbed with an iron hand," he said.
He had earlier announced that each of the 166 police stations in Delhi would have women officers available at all times, and that more women would be recruited across the country.
At the moment many police stations in the city do not have any women on their staff.
Officials say it is often difficult for policemen to assist a female victim.
The government has been under pressure to act since the woman was attacked on a bus while she was travelling home from a visit to the cinema on 16 December.
She was beaten with metal bars and gang raped for an hour, and died from her injuries two weeks later.
The case sparked huge protests and demands for better protection for women.
The five adult men accused of the attack are expected to go on trial at a fast-track court at the weekend.
The Bar Association has said none of its members was willing to defend the suspects, so the court is expected to appoint defence lawyers itself.
The victim's father said he backed calls for the men to be executed if found guilty.
Delhi officials have responded to criticism that they are failing to protect women by announcing a series of measures intended to make the city safer.
These include more police night patrols, checks on bus drivers and their assistants, and the banning of buses with tinted windows or curtains.
The government has also set up a committee under a retired Supreme Court judge to recommend changes to the anti-rape law.
A telephone helpline has been launched for women in distress, connected to police stations across the city.