Delhi rape victim's family: She was brave, full of life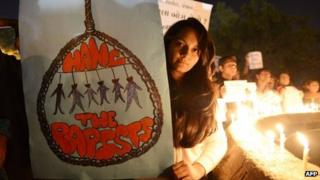 The world knows her as the "Delhi gang-rape victim".
But her grief-stricken family and relatives, trying to come to terms with their loss, remember her as a brave girl who dreamed of relieving people's pain.
She wanted to build a hospital in her ancestral village in the northern Indian state of Uttar Pradesh.
She seldom visited the village, in one of the most undeveloped regions in the country, but she had said she wanted to do something to help the people there.
The family moved to Delhi in 1983 in search of a better life but on Monday, her family arrived to scatter her ashes in the river Ganges. I joined her parents and brothers in the village.
Her father sat cross-legged on a stack of hay spread out thinly across the floor in a crudely-built hall outside the house.
"She was brave, had no fear, and was full of life," he said.
Born and raised in a lower middle class family, the 23-year old saw education as the passport to improving her family's economic plight.
She wanted to be a doctor since "she began playing with dolls", says the father.
"I told her repeatedly that I could not fund her education, but she did not budge."
But, she was determined and eventually she won. The family sold off a chunk of their village land to fund her education.
"I wanted my children to get the best of education," he says, proudly.
'Going to heaven'
Her brother, who was the last member from the family to speak to her before she was attacked, remembers her as an affectionate and hardworking elder sister who led by example while prodding her two brothers to study hard.
"She studied day and night. We would not even know when she slept and woke up."
He breaks down every time he remembers the fights he had with her, mostly over the television remote control - she preferred to watch soaps and Bigg Boss was one of her favourite programmes.
"She scolded me, but she loved me as well."
He recalls the events of the day when his sister was brutally attacked by six men in a bus.
"My sister normally returned home by 8pm every day. If she anticipated a delay, she would call up without fail and tell us how and when she would be back.
"On that day she rang up around 7pm and I took her call. She said that she would be slightly delayed but when I began calling her after 8pm, I couldn't get through to her."
A few hours' later, the family received a call from the Safdarjung hospital where she was taken by the police for treatment informing them that she had "met with an accident".
"She was not scared of anyone. We could never imagine that such a fate would befall her... She must never have imagined it."
Grim mood
He says the last time he spoke to her was in the hospital on Christmas.
"She gestured with her fingers that she was going to heaven."
Her father remembers how she asked for food once she regained consciousness in hospital. "She specifically asked for toffee. The doctor asked, 'will you mind a lollipop,' and she replied, 'yes!'"
He dismisses reports that she was about to get married soon: "She said she would not marry till her brothers finished their education."
The mood in her ancestral village is grim and the villagers are calling for the death penalty for the accused.
But her father is asking his two sons to look ahead.
"He told us to focus us on our forthcoming examination. But I can't - I have lost my power to feel and think," her brother said.