India gang rape victim's ashes scattered in Ganges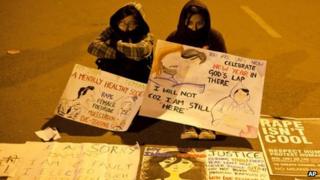 The ashes of an Indian woman who died after being gang-raped on a bus in the capital, Delhi, a fortnight ago have been scattered in the river Ganges.
The family, along with hundreds of well-wishers, performed the rituals in Ballia district in Uttar Pradesh state.
The victim died on Saturday morning in a Singapore hospital where she was being treated for severe injuries. She was cremated in Delhi on Sunday.
The brutal assault of the woman has sparked public outrage in the country.
It led to huge demonstrations with protesters expressing anger over attitudes to women in India and calling for changes to the laws on violence against women.
As vigils continue to be held, India scaled back new year celebrations.
President Pranab Mukherjee cancelled all new year celebrations and appealed to the people not to greet him.
The armed forces cancelled the new year parties they had been planning to hold and the ruling Congress Party also made a decision to abandon its celebrations.
Many hotels, clubs and business houses and celebrities cancelled or toned down planned events.
The parents and two brothers of the victim - a 23-year-old medical student - flew from Delhi to Varanasi on Monday evening and were driven to their ancestral home in Ballia.
Her last remains were scattered in the Ganges on Tuesday morning.
The ceremony was attended by about 500 people, including local residents, social and political activists.
'Feeling angry'
A local politician, Upendra Tiwari, told the BBC that people in the area have been feeling angry at the incident and that many women and girls had participated in a peaceful march there.
Meanwhile, police say they expect to formally charge five of six suspects with murder on Thursday. If convicted, they could face the death penalty, which is rarely carried out in India.
The sixth suspect is reported to be under 18 and a juvenile. Police have ordered a bone test for him to confirm his age.
The Indian government was heavily criticised for its response to the attack, which many called "slow" and inadequate.
According to official figures, a woman is raped in Delhi every 14 hours, while women across the country say they are frequently subjected to sexual intimidation and violence.
Safety helpline
Officials have since announced a series of measures intended to make the city safer for women.
These include more police night patrols, checks on bus drivers and their assistants, and the banning of buses with tinted windows or curtains.
Late on Monday, the authorities in Delhi launched a new telephone helpline for women in distress after its scheduled launch in the morning was delayed due to a "technical glitch".
The 24-hour helpline number 181 will operate out of Delhi Chief Minister Sheila Dikshit's office and will be connected with all the 185 police stations across the city.
But many of the protesters say that women are viewed as second-class citizens, and that a fundamental change in culture and attitudes, backed up by law, is needed to protect them.