India orders inquiry into Delhi gang rape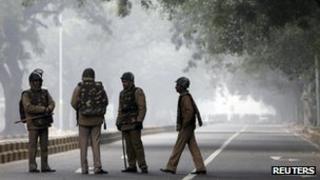 India's government has ordered an investigation into the gang rape of a 23-year-old student while on a bus in the capital, Delhi, earlier this month.
A retired judge will "identify the lapses" on the part of authorities and "fix responsibility" a minister said.
The student's condition has "improved marginally", doctors say, although she remains on life support.
It sparked angry protests in India. Six people, including the bus driver, have been held in connection with the rape.
Violence in clashes between protesters and the police in Delhi left one policeman dead and injured more than 100 people.
Finance Minister P Chidambaram announced on Wednesday that retired judge Usha Mehra would head a commission of inquiry into the incident on 16 December.
The probe would "identify the lapses, if any, on the part of the police, or another authority or person that contributed to the occurrence, and fix responsibility for the lapses or negligence", Mr Chidambaram said.
Two policemen have already been been suspended.
Doctors at Delhi's Safdarjung Hospital say the woman remains on life support and in a critical condition despite a "marginal improvement" in her vital signs.
'Interference'
A magistrate took a fresh statement about the incident from her at the hospital late on Tuesday following controversy over an earlier statement.
The magistrate who took the earlier statement complained of interference from the police - a charge denied by the city police chief, Neeraj Kumar.
Police have opened roads and metro stations shut since Monday as protests against the incident eased.
The government has tried to halt the rising anger by announcing a series of measures intended to make Delhi safer for women.
These include more police night patrols, checks on bus drivers and their assistants, and the banning of buses with tinted windows or curtains.
But the protesters say the government's pledge to seek life sentences for the attackers is not enough - many are calling for the death penalty.
The victim and her friend had been to see a film when they boarded the bus in the Munirka area, intending to travel to Dwarka in south-west Delhi.
Police said she was raped for nearly an hour, and both she and her companion were beaten with iron bars and thrown out of the moving bus into a Delhi street.