Pakistan resume India cricket tour in Bangalore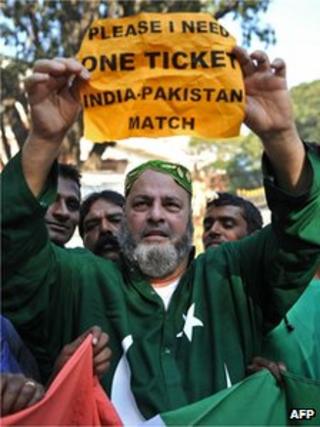 Pakistan is playing its first cricket series in India for five years amid tight security.
The first bilateral series between the two countries since 2007, comprising two T20 matches and three one-day internationals, began with a T20 game in the southern city of Bangalore.
Ties between the two countries' cricket authorities were hit by the 2008 Mumbai attacks, in which 175 people died.
The attack was blamed on a Pakistan-based militant group.
India have left veteran left-arm seamer Zaheer Khan out of the series against Pakistan.
Sachin Tendulkar has retired from the 50-over format, but fellow batsman Virender Sehwag retains his ODI place.
Reports say a massive security ring has been thrown up outside a stadium in Bangalore, where the match began on Tuesday evening.
Bomb squad officers, sniffer dogs and as many as 5,000 policemen have been deployed to maintain security, reports said.
Hardline Hindu organisations, including the Shiv Sena, have said they will hold protests outside all the match venues during the series.
"As the governments of both the countries have agreed to hold the bilateral series, no organisation will be allowed to disrupt the match," Bangalore police chief Jyotiprakash Mirji told reporters ahead of the match.
The last series between India and Pakistan in either country was in 2007-2008 when Pakistan visited India.
The South Asian rivals continued to play each other on overseas grounds, with their last match taking place in the ICC World Twenty20 in Sri Lanka in September.
Correspondents say the move to resume cricketing ties is a sign of improving relations between the two countries.
In July, the foreign secretaries of India and Pakistan met in Delhi and the two sides discussed their willingness to have more sporting contact.