India court orders charges against Suresh Kalmadi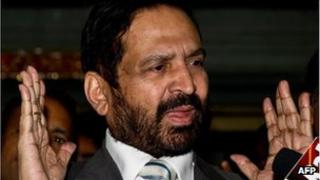 A court in the Indian capital, Delhi, has ordered corruption charges to be brought against the Delhi 2010 Commonwealth Games head Suresh Kalmadi.
Mr Kalmadi and 10 others face charges of cheating, forgery and criminal conspiracy. They deny wrongdoing. The charges will be read out on 10 January.
The row over the Games is one of a series of corruption scandals that has rocked India's Congress-led government.
Mr Kalmadi was released on bail in January after nine months in custody.
India's federal investigation agency, the Central Bureau of Investigation, arrested him in April 2011 "for conspiracy to cause favour to a company in Switzerland while procuring timers and scoring equipment for the Games".
On Friday, a judge in Delhi ordered prosecutors to bring charges against Mr Kalmadi, Games secretary general Lalit Bhanot, and nine others for illegally awarding the contract to the company in Switzerland.
Mr Bhanot spent 11 months in custody last year on corruption charges linked to the event before he too was released on bail.
Mr Kalmadi, a sitting member of parliament, has also been charged with corruption in a case related to contracts at a 2009 event in London which marked the start of a baton race across Commonwealth countries. He denies those charges too.