India speculation over 'national role' for Narendra Modi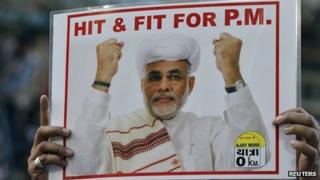 Speculation mounted in the Indian media about a possible national role for Hindu nationalist leader Narendra Modi, after he won an emphatic fourth term in Gujarat state polls.
Papers say Mr Modi has emerged as the strongest prime ministerial candidate for his Bharatiya Janata Party (BJP).
The BJP won 115 seats in the 182-seat assembly
Mr Modi called it a "victory for all those people of the country who are yearning for development".
Under his leadership, Gujarat has been turned into one of India's economic powerhouses.
But he is seen as a divisive figure, having been chief minister during the 2002 religious riots when more than 1,000 people, mostly Muslims, were killed.
Mr Modi was accused of doing little to stop the riots, although he denies this.
'Polarising figure'
"Through this verdict... I would like to tell [people in the country] that we have to build a campaign for good governance," Mr Modi said after his victory, a hint, according to the Hindustan Times newspaper, at "national ambitions".
The win proved that "Mr Modi cannot be described as just another regional leader any more", the newspaper said.
Writing in The Indian Express newspaper, analyst Pratap Bhanu Mehta said Mr Modi's "triumph is an emphatic political achievement".
"He, like a handful of other chief ministers brilliantly grasped the fact that Indian politics is deeply aspirational. It rewards governance."
But, Mr Mehta wrote, the leader's "path to a greater national role is still fraught".
"No chief minister has been able to make an easy transition to national politics. No one can hope to govern India if they are incapable of a statesman-like synthesising capacity. No one can govern India for long if they make minorities feel insecure.
"And popular acclaim notwithstanding, it has to be said that Mr Modi has not yet given evidence that he can make the transition to a genuine statesman."
The Hindu newspaper said Mr Modi's decisive win was "enough to get all the party's national leaders to brace themselves for a challenge".
"Unsurprisingly, the BJP rank-and-file is pushing Mr Modi to take the long march to Delhi. It is a different matter that the party's second rung - not to speak of its key allies - seem not too enthused by the project," the newspaper said.
The Times of India said Mr Modi's "transition to the national stage won't be easy".
The newspaper said Mr Modi remained a "deeply polarising figure" and was "viewed as an abrasive lone-ranger" in his party.