India elections: BJP's Narendra Modi secures Gujarat win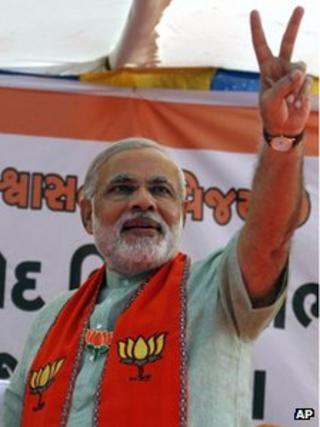 Hindu nationalist leader Narendra Modi has won a convincing victory to secure a fourth successive term as chief minister of India's Gujarat state.
With all the votes counted, Mr Modi's Bharatiya Janata Party (BJP) has won 115 seats in the 182-seat assembly, the Election Commission says.
The rival Congress party won 60 seats and others took six.
However, the Congress won by a clear margin in the northern state of Himachal Pradesh, final results showed.
The party won 36 seats there, ahead of the BJP's 26. Other parties won six seats.
In Gujarat the polls were seen as another referendum on the popularity of Mr Modi, who has ruled the western state since October 2001.
Despite the BJP landslide, its final tally of seats is two fewer than in the last state assembly.
Mr Modi, who held his Maninagar constituency by more than 86,000 votes, has been tipped as a potential future prime minister.
Under his leadership, Gujarat has been turned into one of India's economic powerhouses.
But he is seen as a divisive figure, having been chief minister during the 2002 religious riots when more than 1,000 people, mostly Muslims, were killed.
Mr Modi was accused of doing little to stop the riots, although he denies this.
Polling in Gujarat and Himachal Pradesh was held between 4 November and 17 December. Gujarat had a staggered two-phase election on 13 and 17 December.
More than 71% of Gujarat's 40 million eligible voters cast their ballots, while Himachal Pradesh saw a record voter turn-out of more than 74%.