Delhi bus gang rape: Sonia Gandhi visits hospital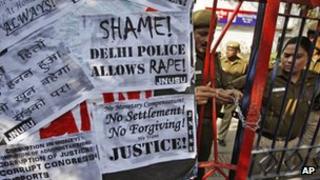 The chief of India's ruling Congress party, Sonia Gandhi, has visited the Delhi hospital where a 23-year-old student who was gang-raped on a city bus is fighting for her life.
Ms Gandhi later said that the "strictest possible measures" should be taken to prevent such incidents.
The woman remains in a critical condition, doctors say.
Police said they have arrested four people, including the bus driver, and are looking for two more people.
The student and a male friend were beaten, stripped and thrown out of the bus on Sunday evening.
Lawmakers from all parties have expressed their horror at the incident, which has caused outrage across the country.
'Monstrous crime'
Ms Gandhi visited the Safdarjung Hospital late on Tuesday, where she met the student's parents and asked the doctors about her condition.
"It is a shame for us who are responsible for the security of our cities that a young woman can be raped in a moving bus in the capital of the country and flung on to the street," Ms Gandhi was quoted as writing to federal Home Minister Sushil Kumar Shinde by the Press Trust of India news agency.
She described the incident as a "monstrous crime", and said it needed the "government's most urgent attention".
Ms Gandhi said the security agencies "must be motivated, trained and equipped to deal with this menace".
Angry MPs have demanded the death penalty for the rapists, and protests and candlelight vigils have been held in the capital.
The media has also condemned the incident. "Enough talk. Let's make women safe", The Times of India said in its headline on Wednesday.
"Time to be ashamed", said The Hindu newspaper, saying that India's political leadership had failed to "address the problem" of crimes against women.
Home Minister Sushil Kumar Shinde has vowed to make the city safer for its women, including increased patrolling of routes used often by women at night.
He said on Tuesday he would propose to "have this case tried by a fast-track court".
The woman and her friend boarded the bus in Munirka area and were on their way to Dwarka in south-west Delhi.
They were returning after watching a film in a shopping centre in south Delhi, police said.
The couple were attacked by "at least four men", police said.