Cyrus Mistry: Challenges before India's new Tata chief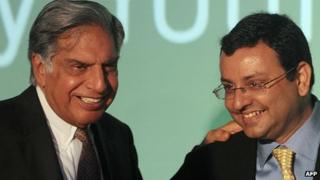 As Ratan Tata steps down from his position as head of India's 144-year-old Tata Group, business analyst Morgen Witzel looks at the task ahead for his successor Cyrus Mistry.
Any change of leadership in a business is a nervous moment.
When the business is large and highly respected, and the leader has been in the post for more than two decades, things grow more tense.
As Ratan Tata hands over leadership of the Tata group (sales: $100bn; £62bn) to Cyrus Mistry, there are plenty of jangling nerves both inside and outside the group.
In fact, Ratan Tata has left his successor a very healthy legacy.
Despite the global downturn, the Tata group has proceeded with its strategy of international growth and expansion on the whole successfully.
Brand Tata
The Tata brand, Ratan Tata's creation and perhaps the most valuable part of his legacy, continues to shine brightly.
In 2011 the brand was valued by one agency at $16.3bn (£10bn), making it the 45th most valuable brand in the world.
When Ratan Tata took over as leader of the group in 1991, things were rather different.
His predecessor, the legendary JRD Tata, had steered the group through the difficult period of state controls and bureaucratic red tape known to Indians as the "Licence Raj" and even managed to grow the business.
But by the late 1980s, JRD Tata's formidable powers were beginning to fade.
Control of key businesses within the group came under the control of ambitious senior managers known popularly as "satraps".
These men contended with each other for power, and were rivals for its leadership.
Ratan Tata came into this arena as an unknown quantity.
Some of the satraps thought that they could push him around.
Instead, slowly and with quiet authority, he asserted his control of the group.
Upon taking office, one of Ratan Tata's first priorities was the development of a strong brand.
As he put it many years later: "We had a strong reputation, but we did not have a brand."
Years of effort were devoted to developing the brand with all stakeholders: customers, employees, investors, the community at large.
As a result, perceptions of the Tata group changed rapidly in India.
Innovative business
In the early 1990s the Tata name was trusted and respected, but its image was slightly fusty and out of date.
New, modern companies such as Infosys and Ranbaxy seemed to represent the real future of India.
A decade later, all that had changed. Tata was now seen as a forward-looking innovative business; in 2008, Business Week magazine named the group one of the 10 most innovative businesses in the world.
Young people now regarded Tata as an employer of choice, even if it paid lower salaries than some of its rivals.
The second change was to switch from a largely Indian-based strategy, with the bulk of operations located in-country and the main focus on Indian markets, to a much more international approach.
From the beginning, Ratan Tata believed that the group would have to go international if it was to continue to prosper.
The international strategy did not develop overnight. It continues to be a work-in-progress.
Some of the group's subsidiaries, such as Tata Beverages, Tata Motors, Tata Steel, Tata Consultancy Services (TCS) and Taj Hotels, are further down the road to internationalisation than others. Even amongst this group there are some late starters.
TCS was an early leader, and today has operations around the globe.
Tata Beverages, the former Tata Tea, dipped its toe in the water early on too, with the largely under-the-radar acquisition of Tetley Tea in 2000.
Others have only begun making acquisitions overseas within the last few years.
However, for much of the group the strategic intent is now well-established.
Indeed for Tata Steel, which now derives the bulk of its revenue from outside of India, there is no going back.
'Unknown quantity'
Cyrus Mistry, Ratan Tata's successor, now has the task of taking this strategy forward.
One reason why nerves are jangling amongst Tata managers and Tata-watchers alike is that he, like Ratan Tata before him, is an unknown quantity. Does he have what it takes to make this strategy work?
It is not just a matter of managing the physical expansion of the group and leading and coordinating what will inevitably be a much larger business entity.
The real concerns are around the very things that have made Tata great in the first place: its reputation, its brand and its values.
Trust, integrity, commitment to community service: these are the things that the Tata group has lived by, and what have made it the most loved and honoured name in Indian business among the people at large.
But can those values survive in the harsh world of international competition?
Will Tata have to compromise its values to maintain its competitive position?
Will other societies and cultures even understand those values, or will Tata have to make compromises here too?
Will the slow but steady arrival of non-Indians in senior management positions further dilute those values?
Cyrus Mistry will have to perform a delicate balancing act.
He must build on the values and reputation that Ratan Tata has bequeathed him, while at the same time translating those values into a language and form that the rest of the world can understand and buy into.
The task he faces is every bit as great as that faced by Ratan Tata when he first took office.
Whatever happens in the future, it is certain that Cyrus Mistry has a very big pair of shoes to fill.
Morgen Witzel is a Fellow at the Centre for Leadership Studies, University of Exeter Business School