India's inflation rate slows further in November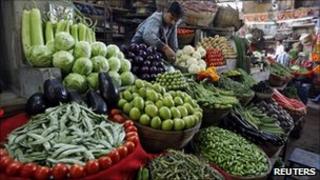 India's inflation has further declined in November, helped by an easing of fuel and manufacturing prices in Asia's third-largest economy.
The wholesale price index, the country's main gauge of inflation, rose 7.24% in November from a year earlier.
That compares with a figure of 7.4% in October and 7.8% in September.
However, analysts say the decline may not be significant enough to prompt the central bank to cut interest rates during a policy review next week.
The central bank has been under pressure to lower borrowing costs in order to help revive India's slowing economy.
"I don't think the Reserve Bank of India will be in a position to reduce policy rates [during the review] on 18 December," Rupa Rege Nitsure of Bank of Baroda told Reuters news agency.
"But, the probability of a rate reduction in the month of January has now gone up."
The central bank has not lowered interest rates since April because inflation, fuelled by a weak rupee and more expensive oil imports, has remained above 7%.