Pakistan Interior Minister Rehman Malik hails India ties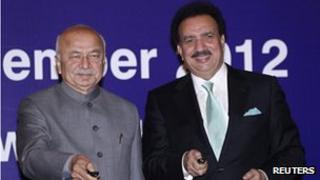 Pakistani Interior Minister Rehman Malik has said that relations with India have improved since the 2008 Mumbai attacks and there is "growing interaction" between the two countries.
On arrival in Delhi he said that he had a "message of peace and love from the children, women and men, old and young of Pakistan" for the people of India.
Mr Malik signed a new visa agreement with India at the start of his visit.
The deal was agreed after talks between India and Pakistan in September.
'Forget the dark days'
India suspended peace talks with Islamabad after the attacks on Mumbai, its financial capital, in which 175 people died.
The attack was blamed by India on the Pakistani-based Lashkar-e-Taiba (LeT) militant group.
Delhi wants LeT founder Hafiz Saeed - who lives openly in Pakistan - to be extradited. But Mr Malik said on Friday that his country would only do so if the Indian authorities acquired proof of his guilt that would stand up in court.
He said that Pakistani authorities had arrested Mr Saeed three times, but on each occasion the courts had found him innocent and freed him.
The interior minister's three-day visit comes less than a month after India executed Pakistani-born Mohammed Ajmal Kasab, the sole surviving gunman from the Mumbai attacks.
Mr Malik insisted that it was now necessary to forget the "dark days". He said that he hoped the visa agreement would trigger more interaction between the people of both nations.
"The journey towards peace is progressing very well, especially with the new visa regime, it will also bring a lot of good for us... Let us not create any negativity," he said.
Cricketing ties
The agreement makes it easier for business travellers to get visas quickly and easier for people aged over 65 in both countries to get "on arrival" visas. It also enables members of divided families, tourists and pilgrims to obtain visas speedily instead of waiting for months.
"When Indians enter Pakistan and Pakistanis enter India, they should feel like they are coming home," Mr Malik said.
The interior minister is expected to hold talks with Indian Prime Minister Manmohan Singh on Saturday, according to the state broadcaster, Doordarshan.
His trip comes ahead of Pakistan's first cricket series in India for five years.
India is likely to issue 3,000 visas to Pakistani cricket fans attending a short limited-overs tour beginning on 25 December.
Correspondents say the move to resume cricketing ties is a further sign of improving relations between the two countries.