Ravi Shankar death: Tributes pour in for 'godfather of music'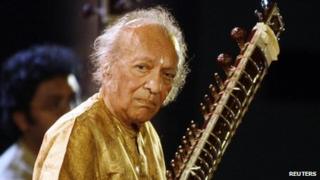 Musicians from India and around the world have paid tributes to legendary sitar player Ravi Shankar, who has died aged 92.
His friends in the musical world all appear to agree that the contribution of the three-time Grammy winner to music will keep him alive in the minds of people all over the world for many years to come.
Many say that he will be remembered principally for being the first Indian musician to take the subcontinent's versatile and spontaneous styles to the West.
His sitar contribution to songs by the Beatles - George Harrison was taught by Shankar - on their Rubber Soul, Revolver and Sgt Pepper's Lonely Hearts Club Band albums have guaranteed his immortality, critics say.
Santoor (stringed instrument) legend Pandit Shiv Kumar Sharma said that he had a lifelong association with the sitar player.
"It's a big loss not only for Indian music but also for music all over the world. I am in shock and we have lost a tradition," he told Indian news channel CNN-IBN.
Sitar maestro Ustad Shujaat Khan told the channel that Shankar was a "forward-thinking person" who succeeded in taking traditional Indian music to the global stage.
'Saint of the music world'
Classical singer Sajan Mishra said that artists with Shankar's genius "come once in centuries".
"He was like a saint of the music world," Mishra said.
Anup Jalota, another classical singer, described Shankar as "the godfather of Indian music".
"He told the whole world about Indian music," he said.
Vocalist Ustad Rashid Khan called his death a "great loss for the music world".
Twitter tributes from politicians were led by Indian Prime Minister Manmohan Singh, who hailed the sitar maestro as a cultural icon and praised him for being a "global ambassador of India's cultural heritage".
He followed with another tweet which said: "An era has passed away with Pandit Ravi Shankar. The nation joins me to pay tributes to his unsurpassable genius, his art and his humility."
India's ambassador to the US, Nirupama Rao, remembered the legend's "particularly poignant" last concert in California, where he lived with his wife Sukanya.
The diplomat said that Shankar performed with his daughter Anoushka "in perfect unison" and said she believed "a torch was passed".
The Indian film industry also joined in. The maestro wrote the score for several Indian films, including some by Oscar-winning director Satyajit Ray.
Bollywood actor Anupam Kher said that "Ravi Shankar's sitar played for our souls".
"His music helped us sooth our nerves. His smile was like his music- DIVINE. RIP."
Bollywood actor and MP Jaya Bachchan said the musical maestro's death was "very sad" and "unexpected".
'Warmth and talent'
Tributes have also come in from around the world.
The musician earned fame not just for his work with the Beatles and the Rolling Stones but also for his collaboration with greats such as violinist Yehudi Menuhin. He performed at the Monterey International Pop Music Festival in California in 1967 and at the Woodstock festival in the late 60s.
One of the first to tweet his tribute was Giles Martin, the son of Sir George Martin, famed producer of almost all of The Beatles' records.
"I'm very sad to hear of the death of Ravi Shankar," he said. "A beautiful, worldly man with warmth and talent."
"I bet George is happy to see him again," he said referring to George Harrison who died in 2001.
Tim Burgess, lead singer of the British rock band The Charlatans, spoke for many in his praise of the Indian musician.
"The great Ravi Shankar has left the building," he said. "An amazing talent and the maker of a beautiful sound."
British Indian musician Nitin Sawhney described Shankar as his "greatest childhood inspiration".
"I feel honoured to have known him and to work with my friend Anoushka who carries his legacy," he said.
Canadian pop and country singer-songwriter KD Lang tweeted that Shankar was a "musical ambassador".
"May you have a swift and positive rebirth," she tweeted.